Biggest question for Texans facing wildfires: Flee or fight?
Some Texans ignored evacuation orders to fight wildfires with garden hoses and lawn mowers. Their neighbors hail them as 'heroes' but experts call it 'a really dangerous game.'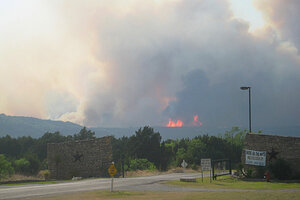 Lee McNeely / Texas Forest Service
Wildfires blazing across Texas have at times overwhelmed the ability of firefighters to protect homes, leading some Texans to ignore evacuation orders and stand guard with garden hoses as towering flames approach.
News emerged Monday of average citizens involved in fiery standoffs and cat-and-mouse games with police, even as a break in the weather gave way to the furnace-blasts of hot air that have fueled this historic fire season.
With nearly 2 million acres burned and 350 homes destroyed by wildland fires, many residents are reluctant to leave their neighborhoods. At least a few decided to make a stand, with or without official sanction.
"In our area, the fact is that the homes that belonged to the ones who stayed behind were still standing and a lot of the homes from which people fled were burned," says Revis Daggett, an inn owner in Fort Davis, Texas, whose home was briefly threatened by the still-burning Rockhouse fire. "That's something people are thinking about."
Ignoring wildfire evacuation orders "is a really dangerous game," says Debbie Miley, executive director of the National Wildfire Suppression Association. "They're not outfitted with all the gear and training that a wildland firefighter has to have. It's scary to watch them [stay behind] with a garden hose and a T-shirt on. They're really taking their life into their own hands."
---