Wind power: Clean energy, dirty business?
In the developing world, where land-intensive wind turbines are being rapidly constructed, wind power has often turned clean energy into dirty business.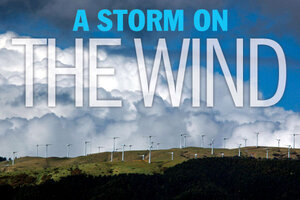 Reuters photo
Like the oil drilling rig that became an icon of the Industrial Age, the giant, spinning wind turbine has become a global image of clean power.
No longer a futuristic dream of environmentalists, wind power has become a big business: Since the signing of the Kyoto Protocol on climate change in 1998, wind-generated electricity has grown 20-fold: from only enough to power the equivalent of two New York Cities, to 200,000 megawatts today – enough to power six Britains. (In an address Thursday about "American energy," linking clean energy to economic and national security, President Obama said that his administration would allow the development of green energy such as wind and solar on enough public lands to power 3 million homes.)
Wind's biggest impact may be in the developing world – indeed, according to the Global Wind Energy Consortium, 2011 was the first year the developing world installed more wind power facilities than the developed world. India is now fifth in wind power production. China, the global wind leader, installed more wind power in 2009 than existed on the planet prior to 2003. Morocco recently finished its first wind farm (200 megawatts) and, with plans to grow its capacity 10-fold by 2020, expects to export electricity to Europe.
---