The 'wind rush': Green energy blows trouble into Mexico
Green energy's big success is a rude awakening in the isthmus of Mexico.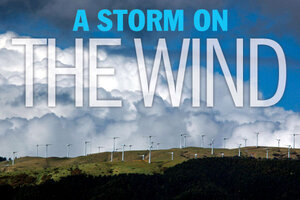 Reuters photo
San Mateo del Mar, Mexico
The Isthmus of Tehuantapec, Mexico's narrowest point, is a powerful wind tunnel of air currents whipping through the mountains that separate the Pacific and Atlantic oceans.
Here, on the Pacific side, the wind shapes everything from the miles-long sandspits of Laguna Superior to the landscapes of the indigenous people's hearts.
Howling constantly through thatched roofs, the wind is powerful enough at times to support a grown man leaning back as if in a chair. Gales average 19 miles per hour, slapping waves over the bows of fishing skiffs and sandblasting anyone standing on the beach.
The wind is "sacred" in this village, says indigenous Huave fisherman Donaciano Victoria. "We believe that the wind from the north is like a man and the wind from the south is like a woman. And so you must not disrespect the wind."
North, in the town of La Venta, one woman says that when she leaves the isthmus, she's struck by how still the rest of the world is.
Others have noticed, too: There are few places like this on earth.
This isolated region of the state of Oaxaca is one of the world's most continuously windy spots. And because wind is a valuable commodity in a world seeking alternative energy, a "wind rush" – reminiscent of the gold and oil rushes of other eras – has swept into the isthmus.
---