Can huge Mojave wind farm boost faltering wind power industry?
Construction began last week on a wind power plant in the Mojave Desert. Its developers say it will be the nation's biggest but it comes amid dimming prospects for wind power in the US.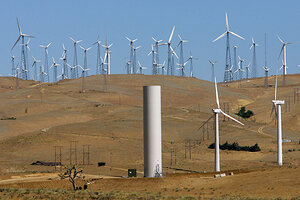 Henry A. Barrios/The Bakersfield Californian/AP
What some tout as the nation's biggest wind power plant broke ground last week in the Mojave Desert, where its developers hope to one day spin enough giant wind turbines to equal the generating capacity of three nuclear power plants.
The Alta Wind Energy Center being built by Terra-Gen Power of New York is a major gust of renewable energy. It has 290 wind turbines spread across 9,000 acres 75 miles north of Los Angeles and is expected to serve 275,000 homes – for starters.
If demand stays strong, a second group of 300 turbines is planned for 2015 and later additions could grow the operation to 3,000 megawatts and millions of customers.
IN PICTURES: The answer is blowing in the wind
But all that wind-energy optimism blowing in southern California belies an uncharacteristically weak and bleak short-term outlook for US wind power. Despite a banner year in 2009, the wind-energy industry now faces a nasty triple threat: sagging power demand, falling electricity prices, and low natural gas prices.
What those three add up to is suddenly weak demand for wind power. After years of record growth, the industry is now looking at a 36 percent to 46 percent drop in new wind-power installations this year when compared with 2009, says Matt Kaplan, a senior analyst with IHS Emerging Energy Research in Cambridge, Mass.
---