Does Keystone XL report let Obama off the hook on climate pledge?
The State Department report on the Keystone XL pipeline does not oppose it on environmental grounds. Critics say this allows Obama to back away from his pledge to combat climate change.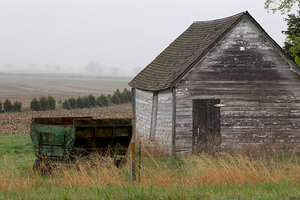 Nati Harnik/AP
A US State Department report released late last week that was noncommittal on the environmental impact of the proposed Keystone XL pipeline is galvanizing opponents of the controversial project who say President Obama is backing away from his commitment to combat climate change.
In the months leading up to a final decision in late summer, the pipeline's opponents say they plan to use methods ranging from public hearings to civil disobedience to persuade his administration to stop the pipeline from moving forward.
The 1,700-mile pipeline extension, which needs federal approval because it crosses the border between the US and Canada, is a lightning rod issue among environmental groups who say it is dangerous because it will carry oil extracted from Canada's oil sands region. The harvesting of such oil, they say, produces up to 30 percent more greenhouses gases than does the extraction of conventional crude oil. There are also worries about potential spills from the pipeline, which is planned to traverse much of the nation's most sensitive agricultural terrain.
Mr. Obama has tabled the decision twice, citing environmental safety concerns in Nebraska, where the original plans had the Keystone XL stretching along the Ogallala Aquifer, an underground water supply that is the greatest irrigation source for the nation's farmland, supplying eight states. The president ultimately blocked the pipeline's approval in January 2012, which allowed TransCanada, the Calgary-based pipeline operator, to draft a new proposal in May.
---