Antarctic ice tells conflicting story about climate change's role in big melt
Two different areas of Antarctica tell two very different stories about how climate change might be affecting ice melt. The data appear to confirm that climate change impacts can be very local.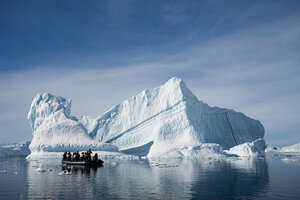 Andrew Halsall/Aurora Expeditions/AP/File
Since the early 1990s, glaciers draining Antarctica's vast ice sheets have dumped ice into the ocean at an an eye-popping rate.
Now, two new studies of ice cores from different parts of the continent are yielding important clues as to why the loss rates have been so high.
On the Antarctic Peninsula, global warming appears to be taking a direct toll. Glaciers are melting mainly from the top down. The peninsula is losing land ice in the summer at a rate unmatched in the past 1,000 years.
For the West Antarctic Ice Sheet, one of two vast continental sheets, losses also have been relatively large. There, however, floating ice shelves that form the seaward end of glaciers are melting from the bottom up. Today's losses are comparable to those that have occurred a few other times over the past 2,000 years. The authors say that for now, the evidence points to the extended reach of naturally shifting climate patterns in the tropical Pacific as driving the losses.
At first blush, the two might appear to be at loggerheads. Instead, researchers suggest, the two highlight how, as on other continents, the intensity of global warming's impact at the bottom of the world depends on location, location, location. And both point to the challenge researchers still face in forecasting the future of the continent's ice chest in a warming climate.
Each in its own way "provides guidance on projecting the future of sea-level rise," notes Richard Alley, a glaciologist at Penn State University in University Park, Pa., who was not a participant in either study.
---