Global warming: Not too late to rein in climate change, group says
The International Energy Agency urges governments to take interim steps to reduce emissions even before a hoped-for climate treaty, saying aggressive measures can still limit global warming.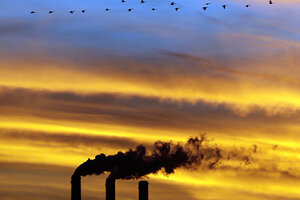 Charlie Riedel/AP/File
Over the next seven years, aggressive efforts to tackle greenhouse-gas emissions from power plants, refineries, and pipelines, and especially to boost energy efficiency, could still keep the world on track to meet its goal of holding increases in global average temperatures to 2 degrees Celsius by the end of the century.
What's more, those efforts need not come at the expense of a profitable energy sector, a concern that has fueled opposition to international agreements on curbing emissions and slowing climate change.
That's the conclusion the Paris-based International Energy Agency (IEA) has reached after reviewing rising global emissions trends from energy production, rising greenhouse-gas concentrations in general, and the glacial efforts to craft a new global climate treaty by 2015, to take effect in 2020.
Eight years have passed since the first attempt at a global climate treaty – the 1997 Kyoto Protocol – took effect. It's first four-year enforcement period ended last year. Throughout the pact's torturous negotiations and implementation, however, emissions have continued to climb.
The pace has even topped some of the highest emissions trajectories climate researchers and economists developed as tools to evaluate the level of effort needed to deal with global warming, as well as the consequences of inaction.
Even with climate policies currently in place globally and nationally, emissions of greenhouse gases in 2020 are projected to be 4 billion tons higher than they should be if nations are intent on giving themselves a 50-50 chance of holding the rise in global average temperatures to 2 degrees C, above pre-industrial levels by 2100, the IEA notes. At global climate talks negotiators have settled on the 2-degree target in order to minimize the harmful effects of global warming.
---