Cleanest air in 50 years! How did New York do it?
Air quality in New York and many other US cities has been getting better since the 1970s. One factor in New York's recent improvement: a phase-out of heavily polluting heating oil in older buildings.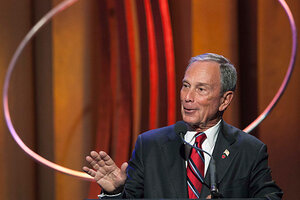 Carlo Allegri/Reuters
Those living in American cities may not be able to go out for a nonmetaphorical "breath of fresh air" quite yet, but there are signs of a remarkable rise in the quality of the nation's air – even though pollution remains a threat to people's health and contributes to global warming, experts say.
The air quality in New York is the best it has been in 50 years, Mayor Michael Bloomberg announced Thursday.
And in Washington, D.C., the air surrounding the nation's capital has shown "major improvement" the past few years, according to Metropolitan Washington Council of Governments, a nonprofit association of area leaders. The region didn't have a single "code red" alert for dangerous air quality this summer – only the second time this has happened in 16 years, and the first since 2009.
Even Los Angeles, still the smog capital of the United States, reported one-third fewer unhealthy ozone days this year compared with more than a decade ago, according to the 2013 "State of the Air" analysis by the American Lung Association. And 15 of the 27 cities with the most ozone pollution improved their air quality, with 13 of the country's most smog-polluted cities experiencing their best year yet – even though most continue to remain at dangerous levels.
Indeed, the overall quality of the nation's air is much improved from a decade ago, according to the ALA analysis. Although some of this improvement can be attributed to a drop in energy use and changes to travel habits since the Great Recession, it is part of larger decades-long trend since 1970, when Congress created the Environmental Protection Agency (EPA) and passed the major provisions of the Clean Air Act.
---