A deluge of rain causes renovation problems
(Read article summary)
New England's record-breaking rains have caused problems for the renovation of Sheep Dog Hollow and at Little Pug.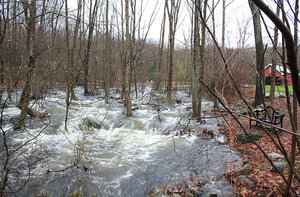 Courtesy of Alexandra Marks
Ah, nature. As I understand the whole idea of going "green," it's to work in conjunction with nature, to protect and preserve its resourceful beauty as we meet our own needs.
That's the idea behind Sheep Dog Hollow, the lovely old farmhouse at the heart of our green renovation experiment. It sits amid bucolic fields bordered by old stone walls and streams, with a pond or two dotting the landscape.
It reminds me of my grandparents farm, Lone Jack, in the Piedmont region of Virginia. My uncle and cousins are doing their best to protect and preserve Lone Jack for future generations.
And so, as a part of the Northern contingent of the family, I figured I could do the same for Sheep Dog Hollow – although, not on quite as grand a scale.
But what do you do when eight inches of rain – about a month's worth - is dumped on you in a mere 48 hour period? Well, you make do and you learn even more about construction and home renovation.
During all the rain, the carpenters were only able to work inside or in porch-protected areas – and that put us behind a bit.
Then, of course, there was the roof. It's cedar and it got wet – very wet. But that's what cedar roofs do, according to our roofers. It will dry out, just like the wood in the forests, and it will be fine – once the buckling is addressed.
---