How to determine if wind power is for you
(Read article summary)
Determining if residential wind power is right for your property takes time.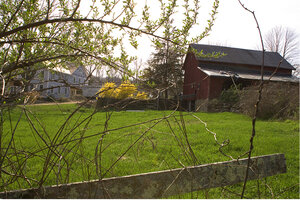 Joanne Ciccarello/Staff/The Christian Science Monitor
The sun is finally shining here in East Haddam, Conn., and the weather even feels springlike, for a change. Our carpenters are nailing up the last few cedar boards of siding and the sheet-rockers started yesterday.
Yes, as long as I don't look at our almost empty bank account, everything appears to be coming up roses as it were, here at Sheep Dog Hollow, our green renovation adventure.
And so, as I mentioned in my most recent post, I'm beginning to look to the future.
To bring new readers up to date: Because we put in a geothermal heating system, we decided to wait for a year or two before deciding on an electrical alternative to our fossil fuel-burning utility. In a year we should know how much electricity our home will use (to say nothing of hoping that we've at least started to replenish that bank account by then...)
We've looked into solar, and with all of the tax credits, rebates, and loan programs available here in Connecticut, it looks like it will be more than affordable.
---