Baby dolphin die-off in Gulf: Cold water, not oil spill, the culprit?
Runoff from unusual snowfall in Alabama caused water temperatures in Mobile Bay to drop suddenly, possibly leading to stillbirths of baby dolphins, researchers say. Poisoning as a result last year's oil spill is another possible culprit.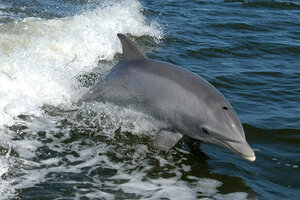 USFW/Handout/Reuters
The cause of death has not yet been determined for baby dolphins that have washed up by the dozen on beaches in Alabama, Mississippi, and Louisiana during the past two months. But cold water shock, which may have caused a spate of stillbirths, is one new theory to place alongside suspicions that the die-off is related to last year's Gulf oil spill.
Researchers at the independent Dauphin Island Sea Lab, in Alabama, have noted two instances of dramatic drops in water temperature that correspond to unusual snow runoff into Mobile Bay in January and February, and they suggest the sudden change may have caused calving dolphin females to abort.
Water temperatures fell quickly from 60 degrees F. to 45 degrees as flood volumes of water surged into the Gulf, the researchers say. Already, the infant mortality rate for the area's 5,000 bottlenose dolphins is 10 times the yearly average. This is the female dolphins' calving season.
Stillborn baby dolphins have been found over a swath of beach 200 miles long. Researchers say their deaths seem to correspond to two separate pulses, or freshets, of cold water that surged into Mobile Bay, after record 2011 snowfall across northern and central Alabama melted and poured into the Mobile River watershed.
---