Retail giant Wal-Mart will donate $2 billion to US food banks
Wal-Mart is planning to donate $2 billion over the next five years to US food banks, more than doubling its annual rate of giving.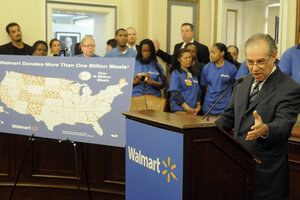 Stephen J Boitano/AP Images For Walmart
Wal-Mart Stores Inc. plans to significantly ramp up its donations to the nation's food banks to total $2 billion over the next five years, the retail giant said Wednesday.
The company is more than doubling its annual rate of giving as the number of Americans receiving food stamps has risen to one in eight, and food banks are straining to meet demand.
Wal-Mart's plan comes in two parts: At least $250 million in grants over five years will go to efforts such as buying refrigerated trucks, which help fruits, vegetables and meat last longer to make it from store to charity, and programs to feed children during the summer when they're not in school and receiving government meals.
But the bulk of the donations will consist of more than 1.1 billion pounds of food that doesn't sell or can't be sold because it's close to expiration dates, for example. About half will be fresh fruit, vegetables, dairy and meat — items that food banks say they're seeing more demand for.
The company estimates the food will provide 1 billion meals. Store employees will even offer assistance to food banks to help run their operations more efficiently.
The move extends Wal-Mart's sharp increases in donations in recent years. In 2009, the company spent $21 million on hunger relief and donated 116.1 million pounds of food, up from $12 million in cash and 42.7 million pounds of food in 2008.
The donations may also represent Wal-Mart playing a bit of catch-up with other grocers. The nation's second-largest supermarket chain, Kroger Co., donated 50 million pounds of food in 2009.
---