Leash law for cats? Vermont law raises feline firestorm.
Leash law for cats: In Vermont, a clause in a city law to restrict roaming felines has gotten cat fanciers' dander up.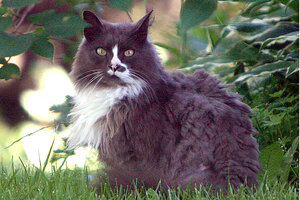 Toby Talbot/AP
A clause in a city law that requires cats to be on leashes has sparked a hissing match among fans of free-roaming felines.
A City Council meeting with cats on the agenda drew an unusually large crowd of about 30 people Tuesday night, including one woman who brought three large signs, one of which said, "Arrest criminals, not cats. Can Barre afford a jail for cats?"
City officials cited complaints from some residents about a roaming cat that turned a neighbor's garden into a litter box.
Barre resident Sue Higby called a leash law for cats "a bad idea ... unless you want to have the police department chasing cats around for a million dollars an hour."
Cities around the country and at least one state have enacted or considered cat restraint laws. In 1949, the Illinois Legislature passed "An Act to provide Protection to Insectivorous Birds by Restraining Cats."
It was vetoed by then-Gov. Adlai Stevenson, who wrote, "To escort a cat abroad on a leash is against the nature of the cat," according to the New Jersey-based Cat Fanciers' Association.
The agency says jurisdictions with cat leash laws or similar restrictions include Akron, Ohio; Aurora, Colo.; Montgomery County, Md.; Palm Beach County, Fla.; and New Orleans.
---