E-Reader price war! Amazon cuts Kindle price to $189 after Nook move
E-Reader sale! E-readers are now at their lowest price due the to popularity of the iPad.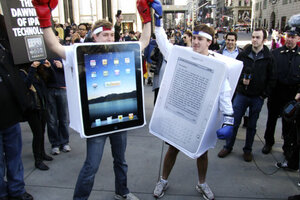 NEWSCOM
An E-Reader price war is heating up in the electronic reader market, as Amazon cut the price of its Kindle e-reader below $200 Monday just after Barnes & Noble did the same with its competing Nook device.
The rapid-fire moves are fanning flames in the still-small but rapidly growing market that the book industry sees as a major part of its future.
On Monday afternoon, online retailer Amazon.com Inc. slashed the price of the Kindle by $70 to $189, just a few hours after bookseller Barnes & Noble Inc. reduced the price of the Nook by $60 to $199 and said it would also start selling a new Nook with Wi-Fi access for $149.
Both the Kindle and the original Nook can wirelessly download books over high-speed data networks; the Nook also has Wi-Fi access.
Seattle-based Amazon has lowered the Kindle's price several times since the e-reader with a grayscale screen debuted in 2007 at $399. In October, the online retailer dropped the price to $259 from $299. Amazon also sells a larger-screen Kindle, the Kindle DX, for $489.
The Nook was released late last year for $259.
---