Mike Lee wins Utah GOP Senate nomination
Mike Lee was chosen by Utah Republicans as their nominee for U.S. Senate on Tuesday.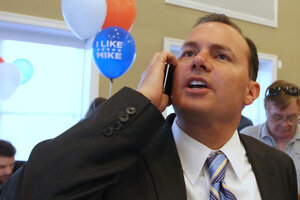 AP
Utah Republicans chose their nominee for the U.S. Senate on Tuesday, selecting a legal scholar who grew up in a family of lawyers and fondly recalls discussing the Constitution over childhood dinners.
Mike Lee is the overwhelming favorite to win in November and replace Sen. Bob Bennett, who was ousted at the Republican convention in May amid a wave of anti-incumbent rage around the country.
Lee and businessman Tim Bridgewater beat out Bennett at the convention to advance to Tuesday's primary.Lee won on Tuesday, earning a nearly a 5,000 vote lead with 84 percent of precincts reporting for about 51 percent of the vote.
Lee's mission is simple should he get elected: limit the role of government to what the founding fathers intended it to be. He wants to cut federal spending, repeal the new federal health care reform law, suspend congressional earmarks and mandate term limits.
---