Yoko Ono opposes parole of John Lennon assassin
Yoko Ono will again oppose the release of Mark David Chapman, who shot and killed John Lennon on December 8, 1980. Yoko Ono says that, if Chapman were released, herself and John's two sons would not feel safe.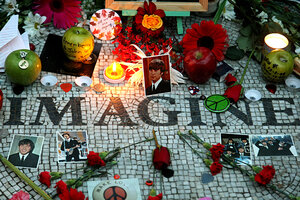 Monika Graff/UPI/Newscom/File
Yoko Ono will again oppose the release of the man who nearly 30 years ago killed her husband, former Beatle John Lennon, and who comes up for parole next month, her lawyer said.
Ono has consistently opposed parole for Mark David Chapman and has again sent a letter to the parole board, her lawyer, Peter Shukat, told the Daily News.
"Her position has not changed," Shukat said in an article published Tuesday.
Lennon was shot to death on December 8, 1980, outside the famed Dakota apartment building just west of Central Park as he and Ono returned home from a recording session.
Chapman -- now 55 and serving a 20-years-to-life sentence for the slaying -- is scheduled to be interviewed by a three-member parole board panel during the week of August 9. It will be his sixth bid for parole.
Shukat refused to say whether Ono's most recent letter to the board is the same one she has submitted every two years since Chapman first became eligible for parole in 2000.
In that letter, Ono wrote that if Chapman is released, "I am afraid it will bring back the nightmare, the chaos and confusion once again. Myself and John's two sons would not feel safe for the rest of our lives."
---
Follow Stories Like This
Get the Monitor stories you care about delivered to your inbox.