Is Apple prepping a 4.8-inch device called the 'iPhone Math'?
A big-screen Apple iPhone could launch by June, according to a new report.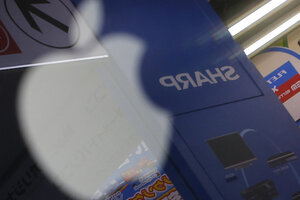 Reuters
New year, new Apple iPhone rumor.
The latest? Well, according to the China Times and the Commercial Times, a publication based in Taiwan, Apple is currently prepping a new 4.8-inch smart phone tentatively dubbed the "iPhone Math." The Math, the two reports indicate (hat tip to Marketwatch), could launch as soon as June, putting the device well ahead of the yearly iPhone refresh, which typically occurs in the fall (the iPhone 5 was unveiled in September, as was the iPhone 4S).
It's not clear exactly what's going on with the name – it could be some kind of reference to the bump in screen size to 4.8-inches from the 4-inch display on the iPhone 5. Or, as Chloe Albanesius of PC Magazine notes, it could be some kind of translation error. At any rate, this is all very preliminary stuff, and Apple has not issued any comment.
So take all this Math talk with a heaping spoonful of salt.
---