How Mary Leakey carved a place for women among man's earliest steps
Google Doodle celebrates the life of renowned British paleoanthropologist Mary Leakey. Leakey, who was born 100 years ago today, gained recognition while working with her husband, Louis Leakey, and thrived long after his death.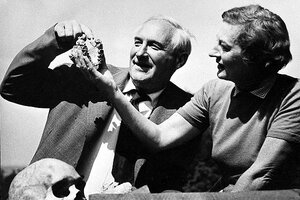 Courtesy of The Leakey Foundation
Today Google celebrates the life of Mary Leakey, a renowned British paleoanthropologist whose discoveries transformed the study of human evolution.
Leakey, who was born Mary Douglas Nicol on Feb. 6, 1913, became known for her groundbreaking findings in Africa: a Proconsul skull that was proven to be a prehistoric ape ancestor, a Australopithecine Bosei skull that dated back to an unprecedented 1.75 million years, and fossil footprints of prehistoric hominids.
Despite her legacy, there are some feminists who characterized Mary Leakey as an under-appreciated woman in a man's field. They note that her field partner and husband, Louis Leakey, would often present her findings.
Even after her death in 1996, some questioned the Leakey partnership. Ms. Magazine's brief obituary of Mary Leakey noted that when Louis Leakey gave lectures in the United States, "he gave the impression that he made the discoveries his wife had made."
But Mary Leakey did not subscribe to the feminism of her time, says Virginia Morell, author of "Ancestral Passions: The Leakey Family and the Quest for Human Beginnings." She was a strong woman who neither resented her husband for being in the spotlight (in fact, she preferred it that way), nor felt threatened by her male counterparts.
"She didn't feel like she was held back by men," Ms. Morell says. "She didn't view the world that way. She didn't feel that she had been slighted in the field."
Mary Leakey would never have made those discoveries had she not fallen in love with him and joined him on his digs, which were his idea. But Louis Leakey would never have been as successful either, were it not for her.
---