Mary Leakey 100th birthday: A son on her adventuresome parenting
(Read article summary)
Mary Leakey 100th birthday: Her son, Philip Leakey, who learned to walk at a dig site, discusses the scientist's adventuresome parenting style. A bio about Mary Leakey might tell modern moms as much as any parenting advice book.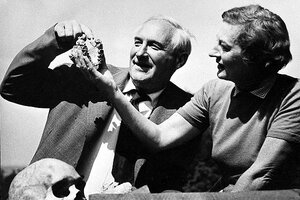 Courtesy of The Leakey Foundation
Today's helicopter parents might want to explore the parenting techniques of famed paleoanthropologist Mary Leakey, whose birth 100 years ago is celebrated today. Instead of hovering over or reining-in her three sons, Ms. Leakey handed them responsibilities early in life and brought them out on dig sites from infancy.
"Mother gave us every freedom to learn by experience as early as I can remember," says her youngest son, Philip, 64, who now lives in Kenya and responded to questions for this blog via e-mail. "This gave me tremendous self-confidence and taught me responsibility at an early age. As I grew I was able to take on more responsibility and in a way it always put us as children ahead of the pack. It encouraged and enhanced leadership skills."
Mary Leakey, born Mary Douglas Nicol in London on Feb. 6, 1913, was the daughter of landscape painter, Erskine Nicol, and Cecilia Frere. She was one of the world's most renowned hunters of early human fossils and married her colleague, Louis Leakey. Together and separately they stunned the scientific world with their finds. Mary Leakey died in Nairobi, Dec. 9, 1996, at the age of 83. She smoked stogies and enjoyed seeing her favorite dog "chomp" people who didn't like anthropologists, according to Scientific American. She is science's version of Katherine Hepburn, except Leakey was a mom.
Most reporters will tell you that the crowning triumphs of her career were the 1972 discovery (with her husband) of 1.75-million-year-old remains from Homo habilis at Olduvai Gorge and the 1978 discovery of 3.6-million-year-old footprints at Laetoli, both in Tanzania.
---