Facebook after death: Should family get deceased's social media passwords?
(Read article summary)
Facebook after death: A Canadian girl who committed suicide after being bullied still has an active Facebook page where those who bullied her in life continue to bully her in death. New Hampshire lawmakers are considering legislation giving social media account information to the executor of the deceased person's estate.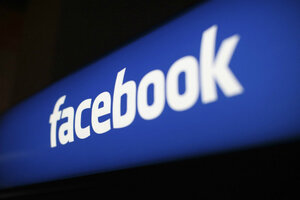 Reuters
Of all the modern existential questions to ask, "Where does my social media go when I die?" is the one being legislated right now. While lingering Facebook walls of the dead can become memorials, shrines of love, they can also be a canvas for the hate of bullies who refuse to let their victims rest in peace as family members lack the passcodes to stop them.
It makes me wonder why Facebook can't just be reasonable and allow family to send proof of death to the server to have a loved one's page shut down and allow friends to migrate to posthumous walls as a separate entity - call it Facebook A.D. (After Death) which would be posted and controlled by family or heir. When my nine-year-old saw what I was writing about today he shrugged and said, "Well, that just means you have to leave someone all your passwords in your will right? Like money or a house?"
When someone dies, Facebook walls become the memorial. In the case of Norfolk businessman and philanthropist Peter Decker, who died one year ago on Feb. 4th 2012, his wall is alive and well and still adding friends. It's a beautiful tribute. But I still felt broadsided each time getting his birthday reminder and, worse, when Facebook's algorithm reminds me I haven't been in touch with Pete in a while and should check-in and see how he's doing.
All this is up for discussion today because in Concorde, N.H lawmakers are pondering a study of whether control of Facebook, Twitter, and other social media accounts should go to the families left behind after the user's death. The Associated Press reports, State Rep. Peter Sullivan is sponsoring a bill that would give control over social media accounts to the executor of a deceased person's estate.
---