Kids online: Social media sites can help develop identity, study says
(Read article summary)
A new study that seeks to understand how new, kid-focused online venues effect adolescence says that social media forums can promote forms of social and identity development. Those skills, the study says, can help encourage civic involvement later in life.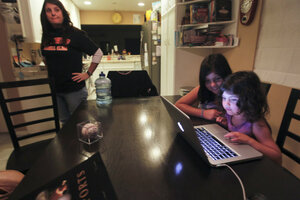 Christian Science Monitor
Imagine a game in which a child not only discovers, collects, creates, and/or customizes 2- and 3-dimensional art objects that s/he then shares with fellow player-creators, but also creates his/her own levels of play. Imagine the literacies players could be developing in the process of playing such a game, including social literacy, through sharing, "liking," and reviewing each other's creations.
Wonderfully, there's nothing imagined about any of that. Millions of children 5- to 12-years-old are playing this game (rated "E" for "Everyone"), LittleBigPlanet, in 13 languages on PlayStation 3 consoles, and this is just one social-media venue profiled by a study from the Joan Ganz Cooney Center at Sesame Workshop in New York. There is still so little we know about preteens' use of social media, but thanks to this report – which both pulls together the research we do have and catalogs what we still need to know – we have some rich new insights.
The authors write that "many important new literacies are necessary for participating deeply in some of the best practices available in SNF," as the description of what happens in and around LittleBigPlanet shows (the authors prefer the broader term "forums" to "sites," thus using "social networking forums" or SNF). "Research also suggests that SNF can also promote some forms of social and identity development. Emerging SNF that sponsor sharing creative designs may provide unique opportunities for children to develop these kinds of new literacies and social practices, sometimes also called "citizenship."
---