Kids online will now be protected by new federal guidelines
(Read article summary)
Children's personal information, such as photos, videos and geolocation information, can now no longer be collected by online services and online 'cookies' can't be used to send kids personalized ads, among other new rules.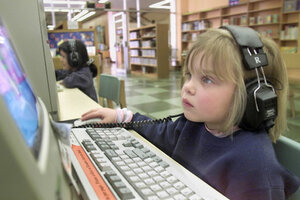 Mark Crosse/Fresno Bee/AP
The US Federal Trade Commission's revisions to the COPPA Rule announced Dec. 19 are aimed at syncing up a rule mandated by a 1998 law with today's technology and with "the way children use the Internet, mobile devices and social networking," the FTC says in its press release.
For example, the personal information that services cannot collect from children under 13 without parental consent now includes photos, videos and geolocation information; the FTC will have a "streamlined, voluntary and transparent" process for approval of new ways children's sites can obtain parental consent; and the COPPA Rule now rules out the use of "persistent identifiers" like cookies that would allow businesses to send kids behavioral ads based on their online activities.
In addition to "personal information," the FTC also updated a number of other terms. For example, "operator" now means a kids' site or service that integrates third-party services "such as plug-ins or advertising networks" that collect personal information from its visitors – not app stores like Apple's or Google Play that just offer children's apps. So an "operator" like Facebook or Apple's App Store "will only be responsible if they have 'actual knowledge' that an … app is not complying," the Los Angeles Times reports.
---