RouteRank: A greener travel planning website
(Read article summary)
RouteRank lets travelers plan trips with carbon footprints in mind. The Swiss up-and-comer is already big in Europe. Will Americans say goodbye to Priceline and Orbitz for the greener option?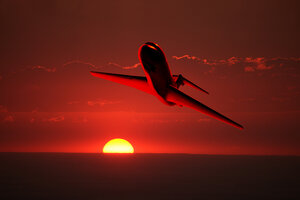 Design Pics/Newscom
To make the cheapest, fastest, and most convenient travel arrangements, ambitious laymen must juggle a myriad of complications: seasonal price patterns, frequent flier miles, stopovers, and these days, carbon footprints.
RouteRank.com could ease the minds of eco-conscious travelers. The Swiss website, founded in 2006 but only expanded to the United States earlier this year, is already successful in Europe. Backed by big-name corporate clients such as the Swiss government, Nokia, and the World Wildlife Fund (WWF), RouteRank plans to take on established industry hotshots Priceline and Orbitz.
The site works a lot like its competition. Users enter dates and destinations, then search for ticket options. RouteRank's results are based on several criteria: means (plane, train, car, even public transportation), time, carbon dioxide emissions, and price. Users can then rank the options by criteria most important to them.
Let's say you want to plan a trip from Chicago to Boston for Columbus Day weekend, leaving on October 8 at 9 a.m. RouteRank suggests 23 options. According to the site, driving the whole way would take more than 16 hours, release 900 pounds of CO2, and cost $438.79. If you add customized car parameters, those numbers grow more exact. The fastest option is a direct American Airlines flight on October 7 at 1 in the morning. The smallest carbon footprint includes taking Chicago's subway to O'Hare International Airport – that pairing is the cheapest as well.
---
Follow Stories Like This
Get the Monitor stories you care about delivered to your inbox.