Mary Blair: How she changed Disney forever
(Read article summary)
Mary Blair played a key role in Disney's early years. A Google Doodle on Friday honors her work.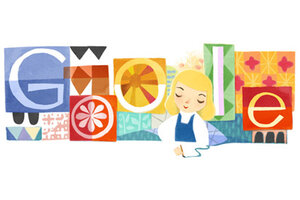 Google.com
Few people know the name Mary Blair. Yet the American painter helped shape the childhood memories of many Americans, whether they realized it or not.
Her distinctive style, which earned her a Google Doodle, inspired several of Disney's early productions.
Friday would have been her 100th birthday.
If you've seen Disney's "Cinderella" or "Alice in Wonderland," you know Mary Blair.
If you've taken a ride on "It's a Small World" at Walt Disney theme parks, you know her aesthetic.
And if you haven't seen the colorful "The Three Caballeros," check out the video below.
"Her vibrant colors and stylized designs pervade Disney animated films from 1943 to 1953," writes animation historian John Canemaker, author of "The Art and Flair of Mary Blair." "Beneath her deceptively simple style, lies enormous visual sophistication and craftsmanship in everything from color choices to composition."
She graduated from the Chouinard Art Institute of Los Angeles at an important time. The Depression loomed heavily over the art world. Blair set aside her hopes of being a fine artist and accepted an animation job at Metro-Goldwyn-Mayer. She brought with her a strong background in watercolor, with its colorful tones and playful style.
In 1940, she went to work for Walt Disney, who quickly assigned her to several big projects.
"Mary's unique color and styling greatly influenced [Disney's] postwar productions" reads the company's biography of her. Blair's keen eye helped craft "Cinderella," "Alice in Wonderland," and "Peter Pan."
---