Apple sits on mountain of cash after record quarter. Now what?
(Read article summary)
Apple posted a blockbuster Q1 of 2012, thanks in large part to spiking sales of iPad tablets and iPhone handsets.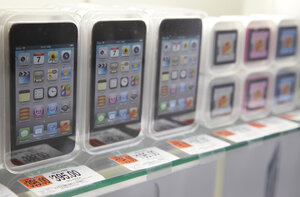 Reuters
Demand for the Apple iPhone hit a new high over the holidays, to the tune of 37 million handsets unloaded in the first quarter of 2012. During the same period – the last 14 weeks of 2011 – Apple sold more than 15 million iPad tablet computers. Those combined sales figures helped drive Apple's quarterly revenue to $46.33 billion, a company record. (Net profit for Apple during Q1 of 2012 was about $13 billion.)
Apple currently has a market cap of $420 billion, almost twice as high as that of Microsoft, Fox Business reported today.
"We're thrilled with our outstanding results and record-breaking sales of iPhones, iPads and Macs," Tim Cook, Apple's CEO, said in a statement. "Apple's momentum is incredibly strong, and we have some amazing new products in the pipeline."
Meanwhile, according to TechCrunch, Apple has a whopping $97.6 billion in cash on hand, $64 billion of which is offshore. The Huffington Post has assembled a pretty amusing list of things that Apple's $97 billion could pay for, including 216 missions to Mars, 17 years of foreign aid, and Facebook, which is rumored to be valued around $100 billion.
---