Apple now third largest phonemaker, pushing feature phones aside
(Read article summary)
New data shows the worldwide breakdown of mobile phone sales in 2011. Feature phones are increasingly being replaced by smart phones, with top-tier models from Apple and Samsung leading the pack.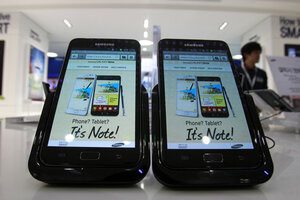 Lee Jin-man/AP
There's no stopping the rise of the smart phones now.
We've known for a long time that regular cell phones, also called feature phones, are on the wane. The latest numbers from market research firm IDC confirm the trend, but their biggest surprise is how much the iPhone has risen: Apple jumped ahead of LG to become the third-biggest worldwide vendor of mobile phones this year, trailing only Nokia and Samsung.
Although cheaper feature phones still made up the majority of sales in 2011, smart phones are gaining. A lot of that growth is thanks to Apple -- the iPhone now makes up 6 percent of the total market, compared to 4 percent last year and 2 percent the year before that.
There's still a pretty big gap separating Apple from Nokia and Samsung, though: Nokia controlled 27 percent of the market in 2011, and Samsung controlled 21.3 percent. A lot of that share comes from feature phones (remember, Apple's only model is the iPhone), although both companies have been making waves with high-end smart phones. Nokia took a hit while retiring its Symbian OS, but it recently launched the Lumia line running Windows Phone 7 software, and early reactions have been pretty positive.
---