More tablet owners know Amazon's vision of Android than Google's
(Read article summary)
The Kindle Fire, the new Amazon tablet, is responsible for more than half of all Android activations, according to a new study.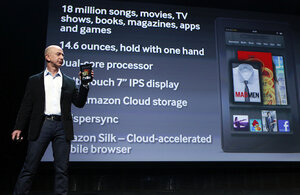 Reuters
More than half of all Android tablet activations in the US come courtesy of the Kindle Fire, the multimedia tablet released last year by Amazon. So says comScore, which released a report this week showing that the Kindle Fire accounted for 54.4 percent of all Android tablet sales – that compared to a meager seven percent share for the Xoom and 15.4 percent for the Samsung Galaxy Tab line.
"Within the Android tablet market," comScore reps wrote in a statement, "Kindle Fire has almost doubled its share in the past two months from 29.4 percent share in December 2011 to 54.4 percent share in February 2012, already establishing itself as the leading Android tablet by a wide margin."
As PC World notes, there is a major caveat here: comScore did not include the Android-powered Nook Tablet and Nook Color from its report. The reason? ComScore says those devices are e-readers, not tablets. Still, the import of the figures is clear: When consumers pick up Android tablets, they generally don't pick up the higher-end models such as the Galaxy Tab.
---