Barnes & Noble Nook Tablet overtakes Kindle Fire in one key metric
(Read article summary)
According to a new report, when it comes to Web traffic, Amazon's Kindle Fire currently lags behind the Barnes & Noble Nook Tablet.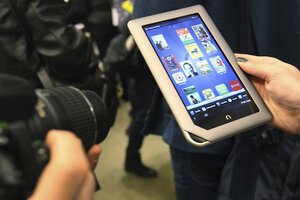 Reuters
When it comes to tablet Web traffic, there's the Apple iPad and there's everyone else.
According to a new study from Chitika, a company that monitors online ad impressions, over 90 percent of all tablet traffic comes from iPad devices. In a distant second place? The Samsung Galaxy Tab line, which accounted for 1.77 percent of the impressions collected by Chitika.
But it's further back in the pack that things start to get really interesting. To wit: At some point this month, Chitika says, the Barnes & Noble Nook Tablet overtook the Amazon Kindle Fire in terms of user time spent online. Horizons readers will remember that the Fire was released with great fanfare (and amid generally positive reviews). Sales seemed solid.
And yet Chitika says the Fire is suddenly lagging behind the Nook.
---