Microsoft days away from revealing its own Windows RT tablet: report
(Read article summary)
According to one report, Microsoft is very close to releasing a Windows RT tablet. But does Microsoft stand a chance against Apple?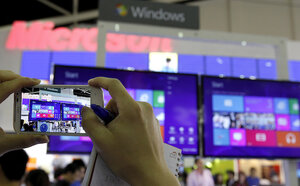 Reuters
According to a recent report from industry analysts IDC, Apple has a chokehold on the tablet market – one that is unlikely to loosen anytime soon. Still, that hasn't stopped challengers such as Samsung and Motorola from trying. The latest contender? Microsoft, which could be days away from unveiling a tablet running Windows RT, a mobile-centric version of the forthcoming Windows 8 operating system.
Tech site TheWrap.com says Microsoft has planned a "secretive event" for Monday, where it will introduce an iPad rival. Details remain vague, and Microsoft has remained mum on the rumors. Still, Microsoft has been careful to stress the mobile capabilities of its new operating system, and it makes sense the company would want to introduce its own in-house tablet.
Of course, as Matt Hamblen of Computerworld notes, this wouldn't exactly be the first Microsoft tablet. The Redmond, Wash.-based company has released slates built by HP and Samsung and powered by older Microsoft operating systems. And yet Windows 8 RT is another beast entirely – an operating system optimized for mobile devices and touchscreen use. So would a Microsoft tablet running RT be a match for Apple?
---