Apple love: Ratio of PC to Mac sales is at its lowest since 1997
(Read article summary)
Analysts tend to focus on iPads and iPhones when Apple announces its earnings. But a new chart shows that Apple is doing quite well on the computer front, too.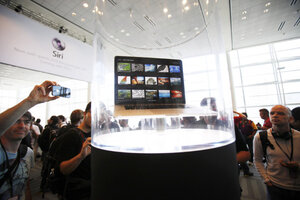 Stephen Lam/Reuters
When Apple releases quarterly sales numbers, it likes to point to sales of iPhones and iPads as evidence of growth. But Mac sales, too, have been quietly growing for years, and a new chart by analyst Horace Dediu shows that the ratio of PC to Mac sales has dropped to its lowest point since 1997.
To put things in perspective, there are still about 16 PCs sold for every Mac. But in 2004, that ratio was more than 50 to 1. (These are worldwide numbers; in the US, the figure is around 3 to 1.) Put another way, most of Apple's profit comes from its iOS devices -- but it turns out it's doing a brisk business in traditional computers, as well.
The real question is what accounts for the shift in Mac sales vs. PC sales: is Apple tearing it up out there, or are PC makers dropping the ball? Turns out it's a little bit of both. Mac sales have been steadily rising for years: Apple sold 4.9 million laptops and desktops in the fourth quarter of 2011, compared to 3.9 million in Q4 2010 and 3 million in Q4 2009. A lot of that has to do with customer attraction to things such as the Macbook Air. And the heavy demand for iPads and iPhones has probably triggered more interest in Mac computers, as well.
---