Google Nexus 4 sells out within an hour in US, UK
(Read article summary)
Google says the LG-built Nexus 4 smartphone has sold out. Our advice? Take it with a grain of salt.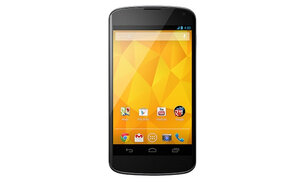 Google
On Tuesday, Nov. 13, Google began selling its LG-built Nexus 4 smart phone. And on Tuesday, Nov. 13, Google sold out of all its Nexus 4 stock.
According to reports from the UK, the 8 GB Nexus 4 disappeared from digital shelves within 15 minutes of launch (Google is selling the device through its Google Play store, and not in brick and mortar outlets). Meanwhile, in the US, consumers apparently ran through the entire Nexus 4 supply – the 8 GB and 16 GB models – in an hour.
In a statement obtained by Business Insider, Google said more phones were on the way.
"There's been so much interest for the Nexus lineup that we've sold out of some of our initial stock in a few countries," Google reps wrote. "We are working hard to add more Nexus devices to Google Play in the coming weeks to keep up with the high demand."
It's worth noting, of course, that Google has not revealed exactly how many Nexus 4 smartphones it had on hand.
---