FCC paves the way for better in-flight broadband
(Read article summary)
The FCC approved new rules on Friday that will make it easier for companies to offer broadband Internet on airplanes. The FCC has authorized in-flight Internet on an ad hoc basis since 2001, but the new rules will provide a framework for licensing companies to provide it.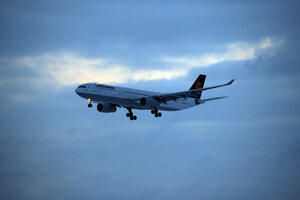 Matthias Schrader/AP/File
Lots of airlines offer Wi-Fi on their flights, but if you've ever tried to use it, you know the service can be ... less than ideal. Scarce bandwidth, frequent outages, and high-connection charges on lots of planes can make the prospect of connecting to in-flight networks a dicey proposition.
For some people, that's a plus: after all, a flight is one of the rare times when you can enjoy a novel or take a nap, untethered from the demands that come from being online. But if distracting yourself from a long flight with Facebook and YouTube sounds like more your cup of tea, you can thank the FCC: the Commission established rules on Friday that will make it easier for companies to offer Internet service on airplanes.
The new rules will streamline the process by which companies apply for permission to offer in-flight Internet, says FCC chairman Julius Genachowski. The approval process will be standardized, allowing the FCC to process license applications about 50 percent faster, and administrative burdens on companies seeking license will be reduced.
"This will enable providers to bring broadband to planes more efficiently, helping passengers connect with friends, family, or the office," Genachowski says in a statment.
---