The Pixel: Google's newest (and most expensive) Chromebook yet
(Read article summary)
Google's new Chromebook, the Pixel, has left critics with much to be desired. So, is Google's latest attempt to break into the laptop industry worth it?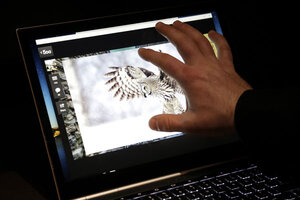 Jeff Chiu/AP
Google launched its latest Chromebook, the Pixel, yesterday at a press event in San Francisco, Calif. The Pixel comes armed with a glass screen, high-resolution screen, and a $1,000+ price.
This is Google's latest attempt to make Chrome OS takeoff. The Pixel brings Chromebooks up a level with new hardware and takes aim "power users," says senior vice president for Chrome Sundar Pichai.
"Touch is here to stay and is the future," says Mr. Pichai, according to Bloomberg BusinessWeek. "We wanted to design something which was very high end and premium for power users -- people who are very, very demanding of their laptops."
The Pixel has an Intel Core i5 processor and limited internal storage. The idea behind Chromebooks is that consumers will use Google's online products and live entirely in a cloud-based system. Essentially, Chromebooks come with a Web browser and that's about it. Instead of Microsoft Office or Outlook, Chromebook users will use Google Docs and Gmail.
The high price of the Pixel is also due to specs outside of the processor. The Pixel has 4.3 millions pixels – more than double the pixels on a 1080p HD TV. According to Time, Pichai says that this will cause consumers to "never, ever see another pixel." The 12.85-inch screen has an aspect ratio of 3:2 (rather tall for a laptop) and it's made of glass. Oh, did we mention it's a touchscreen?
---