Cyberattacks persist as MasterCard slogs through WikiLeaks protest
Cyberattacks sent MasterCard's website into a tailspin. The page has been up-again, down-again as hackers stage a cyberattack protest in support of WikiLeaks.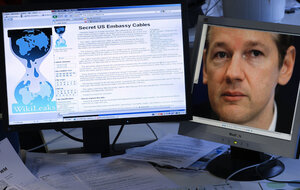 Newscom
Hackers rushed to the defense of WikiLeaks on Wednesday, launching attacks on MasterCard, Swedish prosecutors, a Swiss bank and others who have acted against the site and its jailed founder Julian Assange.
Internet "hacktivists" operating under the label "Operation Payback" claimed responsibility in a Twitter message for causing severe technological problems at the website for MasterCard, which pulled the plug on its relationship with WikiLeaks a day ago.
MasterCard acknowledged "a service disruption" involving its Secure Code system for verifying online payments, but spokesman James Issokson said consumers could still use their credit cards for secure transactions.
The online attacks are part of a wave of support for WikiLeaks that is sweeping the Internet. Twitter was choked with messages of solidarity for the group, while the site's Facebook page hit 1 million fans.
Late Wednesday, Operation Payback itself appeared to run into problems, as many of its sites went down. It was unclear who was behind the counterattack.
---