Apple WWDC: What to expect from today's keynote
Apple WWDC kicks off today with a keynote from CEO Steve Jobs. Here's all the latest rumors, so that you're prepared for the Apple WWDC news.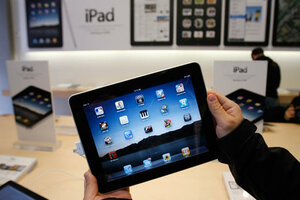 Paul Sakuma/AP/FILE
Apple WWDC is gearing up Monday morning, so it's no surprise that the Apple rumor mill has been in full effect this weekend. We already know that Apple will discuss iOS 5, Mac OS X Lion, and iCloud at WWDC, but the specifics have so far eluded the tech community.
So far, we have what may be an early glimpse at the new notifications system in iOS 5, as well as word that Apple's Time Capsule may get a major upgrade to work with iCloud.
The purported iOS 5 notification screenshot (right) comes from TechCrunch's MG Siegler, who's definitely hedging his bets on the image's accuracy. It features a Twitter notification showing up on the top of the iPhone's screen, instead of in a garish message in the middle of the screen. Siegler notes that this particular design would already fit in well with the current iOS workflow that puts tethering and mid-call notifications at the top of the screen. His sources say that the image has the "right idea."
Last week, we reported that Apple hired a jailbreak app developer who developed a replacement notification system for iOS, and last year Apple poached WebOS developer Rich Dellinger, who spearheaded that platform's gorgeous notification system. At this point, it's a given that Apple has been working on revamping its iOS notifications for some time, so you can rest certain that something new will be shown off tomorrow.
---