California will regulate ride-share companies
The state Public Utilities Commission created a set of guidelines for ride-share companies. The measure was praised by the companies for adding legitimacy to the ride-share business.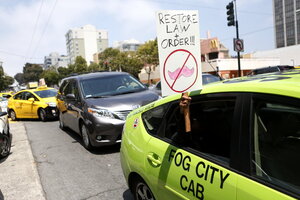 Beck Diefenbach/ Reuters/ File
Web-based ride-hailing companies will have to make sure drivers undergo training and criminal background checks and have commercial liability insurance under rules approved Thursday by California regulators.
The state Public Utilities Commission voted unanimously in favor of those rules and others for such companies as Lyft and Sidecar. Both companies rely on smartphone applications to connect riders and drivers who use their own vehicles.
Commissioners said the rules were needed to ensure public safety.
"Today, we have an opportunity to introduce groundbreaking regulation in the transportation industry," commission President Michael Peevey said before the vote.
The regulations put ride-hailing firms in a new category of business called transportation network companies that are separate from taxi cabs and limousines.
In addition to training, criminal background and insurance requirements, the companies will have to implement a zero-tolerance policy on drugs and alcohol and ensure vehicles undergo a thorough inspection.
The founders of Sidecar and Lyft applauded the commission's decision.
Sidecar founder Sunil Paul said it helps make his company and others like it "mainstream" by giving them a legal permit to operate.
Lyft co-founder John Zimmer echoed those sentiments, saying the new category helps legitimize car-sharing companies.
"It provides clarity in the marketplace and in the community and authorizes the operations we've been doing for the last 14 months," Zimmer said.
The companies, additionally, said they already meet some of the new rules, including the background checks and commercial insurance requirements.
---