Maria Montessori: Is the Montessori method any good?
Google celebrates the 142nd birthday of Italian physician Maria Montessori. Does Montessori's 'child-centered' method work?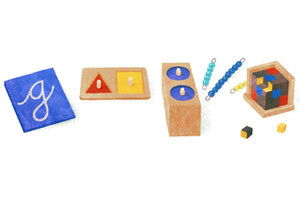 Google
At the beginning of the 20th century, Italy's first female physician, Maria Montessori, sought to turn education on its head. Using methods developed through her work with developmentally disabled children, Montessori created a 'child-centered' approach that emphasizes rich environments, freedom, and respect for the student's point of view.
"Education is not what the teacher gives," wrote Montessori, a devout Catholic whose classical empiricism echoes that of St. Thomas Aquinas, in a 1946 book. "[E]ducation is a natural process spontaneously carried out by the human individual, and is acquired not by listening to words."
Instead of emphasizing drills and memorization, with students all doing the same thing at the same time the same way, the Montessori method deploys student-selected work, small-group instruction, a lack of exams and grades, and collaboration, often between students of different ages. Montessori stressed the importance of developing social skills alongside academic ones.
Her approach has caught on. The International Montessori Index estimates that there are some 4,000 certified schools in the United States and about 7,000 worldwide. ('Montessori' is not trademarked, and other estimates say there are roughly 20,000 such schools around the globe.) In the United States, this includes hundreds of public schools, as well as some high schools.
But does it actually work? How does a Montessori education stack up to a conventional one?
---