To save buildings from quakes, architects try self-destruction by design
Architects hope to protect buildings by letting them rumble instead of crumble. A new design feature would sacrifice itself during an earthquake without harming anything else.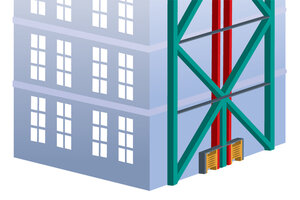 Rich Clabaugh/Staff
Earthquake building codes aren't really designed to save buildings. Engineers need to protect occupants, but there's no rule that buildings should withstand earthquakes of any particular magnitude.
"Perfectly good buildings may need to be condemned after an earthquake, simply because that's how we're designing them – because we think that's economical," says Jerome Hajjar, chair of the Department of Civil and Environmental Engineering at Northeastern University in Boston.
Dr. Hajjar and his team think earthquake engineers can do better. They developed a new method for defending buildings not just from collapse, but also from the tiny fractures and warps that make structures unsafe after a quake and very expensive to repair.
Their secret: self-destruction by design.
The scheme directs the force of an earthquake to a "fuse" that sacrifices itself to save the rest of the building. The seismic force irrevocably destroys the steel fuse. But since the damage is contained to only one part of the building, engineers can simply remove the ruined fuse and replace it with another.
The fuse itself is a sheet of high-caliber steel with diamond shapes cut out of the center. These holes turn the plate into powerful ribbons that writhe under extreme force, absorbing the impact. (See graphic.)
Fuses are not new to earthquake engineering. Some builders install protective braces that warp and wear as the structure shakes. The drawn-out process of inspecting and replacing each damaged brace, however, leaves a building "weaker than you would like it to be," says Ronald Hamburger, a structural engineer with Simpson Gumpertz & Heger in San Francisco and not part of Hajjar's team.
---