Mt. St. Helens and the Cascade Volcanic Arc: Iceland in America
Mt. St. Helens erupted 30 years ago. With an Icelandic volcano causing global problems today, the Mt. St. Helens anniversary is a reminder of volcanic activity in America's Lower 48 states.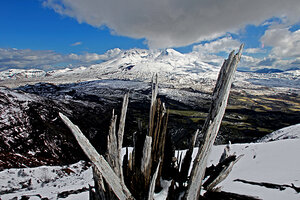 Dean J. Koepfler/Tacoma News Tribune/MCT/Newscom
The 30-year anniversary of the eruption of Mt. St. Helens arrives today as both a moment of reflection and a poignant reminder.
Mt. St. Helens struck a nation that – at least in its 48 contiguous states – often sees volcanic eruptions as exotic events on civilization's fringe, the narratives of Hawaiians and Icelanders and (more recently) Europeans stranded in shuttered airports.
Yet America has its own Iceland, in some respects. It is called the Cascade Volcanic Arc, running from northern California through Washington State, and the eruption of Mt. St. Helens on May 18, 1980, was just a taste of what it can do.
IN PICTURES: Volcanoes around the world
The dynamics of the region's tectonics make the Cascades and Iceland different. The Cascades, for one, are far less active. But each Cascades eruption has the potential to be far more explosive – as was demonstrated by Mt. St. Helens.
Mt. St. Helens vs. Eyjafjallajökull
The reason is that, geologically speaking, Iceland is set to simmer. New earth is constantly bubbling up through the rift that runs across the island and separates the North American and Eurasian tectonic plates. The function of Iceland's volcanoes is essential to perpetually replenish the earth's crust with new magma, which cools into rock.
---