Volcanic ash cloud: Where is it now - May 18?
(Read article summary)
The volcanic ash cloud from Iceland dissipated today and a British Airways labor strike was canceled, allowing Europe's airports to return to near-normal operations. But the British Met Office is taking fire for its volcanic ash cloud forecasts.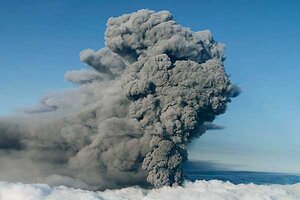 Ingolfur Juliusson/Reuters
Air travelers got a triple dose of good news Tuesday as the volcanic ash cloud from Iceland dissipated, a British court canceled a massive British Airways labor strike, and the British Civil Aviation Authority narrowed the no-fly zones.
All in all, it means the return to near-normal flight operations in Europe today and likely for the rest of this week.
"The ash cloud is not expected to continue to affect the UK as south-westerly winds have become established, driving the ash away from UK airspace," the Meteorological Office (Britain's government weather service) announced late Monday on its website. The Met Office's five-day forecast shows the ash cloud clear of Britain and continental Europe for the entire week.
---