Asteroid! Earth's largest digital camera scans for killer meteors
Asteroid: Earth's largest digital camera is a 1,400-megapixel marvel peering through a telescope in Hawaii. It is on the lookout for potentially dangerous space rocks.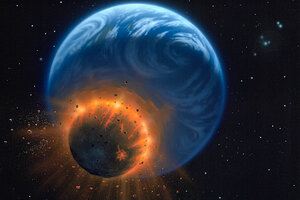 Newscom/File
A new telescope in Hawaii being billed as the world's largest digital camera has begun searching the sky for potentially killer asteroids that could endanger our planet Earth.
With a main mirror about 60 inches (1.8 meters) wide, the new telescope on Maui's Haleakala volcano peak is somewhat small when compared to the large 10-meter Keck telescopes atop the Hawaiian peak of Mauna Kea.
But the telescope's 1,400-megapixel camera is a digital giant, with 1.4 billion pixels spread across 40 centimeters to snap photos of the night sky automatically, night after night, to find potentially dangerous asteroids. A typical domestic digital camera may have 5 million pixels on a chip a few millimeters across, telescope officials said.
"Although modest in size, this telescope is on the cutting edge of technology," said astronomer Nick Kaiser, who is leading the asteroid hunt, known as the Panoramic Survey Telescope & Rapid Response System (Pan-STARRS). "It can image a patch of sky about 40 times the area of the full moon, much larger than any similar-sized telescope on Earth or in space."
The asteroid hunt actually began on May 13, when the new Pan-STARRS telescope PS1 started its space rock survey. That was when "the world became a slightly safer place," project officials said in a statement this week. [More asteroid photos.]
---