Aurora Australis: Amazing light show seen from space
Aurora Australis was captured on film by astronauts on the International Space station during a solar storm.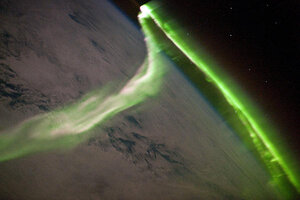 AFP PHOTO/NASA/HANDOUT
A spectacular display of Earth's southern auroras was captured on camera by astronauts on the International Space Station during a recent solar storm.
The dazzling aurora has a sinuous ribbon shape that separates into discrete spots near the lower right corner of the image. While the dominant coloration of the aurora is green, there are faint suggestions of red left of the photo's center.
Auroras — ever-shifting displays of colored ribbons, curtains, rays, and spots — are most visible near the north (aurora borealis) and south (aurora australis) poles as charged particles (called ions) streaming from the sun (the solar wind) interact with Earth's magnetic field.
IN PICTURES: The Aurora Australis and the Aurora Borealis
While auroras are generally only visible close to the poles, severe magnetic storms impacting the Earth's magnetic field can shift them towards the equator. [More 2010 aurora photos.]
---