Water on Mars flowed not too long ago, it turns out
Water on Mars flowed as recently as several hundred million years ago, much later than had been previously believed, researchers say.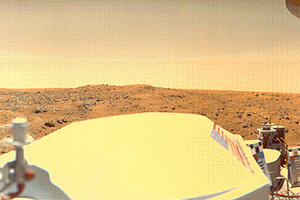 NASA/AP
Water flowed on Mars as recently as several hundred million years ago when sunlight melted a thin layer of glacier ice, researchers now say.
The evidence lies in dozens of channels on Mars carved by melting glacier water during the cold, dry period that has dominated the red planet for the past 3.5 billion years, researchers said. Such youthful evidence surprised scientists, because it suggests that running water existed on Mars much more recently than previously found.
"We think of [post-Noachian] Mars as really, really cold and really, really dry, so the fact that these exist, in those kinds of conditions, is changing how we view the history of water on the planet," said study leader Caleb Fassett, a planetary geologist at Brown University in Providence, RI.
A vast ocean on ancient Mars covered more than one-third of the Martian surface more than 3 billion years ago, according to a study released earlier this month. But evidence of liquid water on Mars since the planet's Noachian era, a time period that ended 3.5 billion years ago, has remained scarce until now.
---