'Programmable matter' can fold itself into an origami airplane
'Programmable matter': Scientists have invented self-folding sheets that can flex themselves into origami airplanes and boats.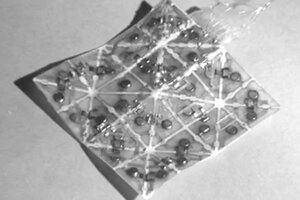 YouTube screenshot
Scientists have invented self-folding sheets of fiberglass that can flex themselves into origami airplanes and boats.
The achievement could help pave the way for "programmable matter" that could one day serve much like a Swiss Army knife, bending and creasing into any number of tools.
The sheets are each less than a half-millimeter thick and made of triangular fiberglass tiles each roughly less than a half-inch (1 cm) wide, connected together by elastic silicone rubber creases.
IN PICTURES: Developments in robotics
To make them self-folding, computer scientist Daniela Rus at MIT and her colleagues embedded strips just 100 microns thick — as wide as a human hair — made of a "shape-memory" nickel-titanium alloy that changes shape when heated or cooled. They also included flexible, stretchable copper-laminated plastic mesh ribbons on the sheets that served as wires.
When electricity running through the coppery ribbons was applied to heat the shape memory alloy strips to 70 degrees C (158 degrees F) or more, they went from flat to bent, causing the entire sheet to fold with them. In the end, the 32-tile sheets the researchers devised could fold into origami boats and
"The underlying theme here is to have a structure that can choose different shapes on demand for whatever you might use them for," said researcher Robert Wood, a roboticist at Harvard University.
"Instead of carrying a toolbox with all these specific items in them like screwdrivers and wrenches, you could carry around a small pallet of these sheets that you would use to create something for a particular function."
---