Researchers discover that some frogs do belly flops
Most frogs land on their feet, but researchers have discovered some primitive species that flop on to their bellies, suggesting that frogs became proficient at jumping before they perfected landing.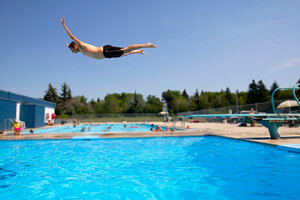 Newscom/File
Frogs are often thought of as natural leapers, but new findings show primitive living frogs actually do belly flops.
This suggests frogs evolved jumping before they refined landing, researchers said.
Frogs had generally been assumed to all jump in a similar manner — by rapidly extending their back legs as they launched themselves forward and rotating their limbs forward during flight so that they could land front legs first.
However, no studies had analyzed the jumping behavior of the most primitive living frogs, part of a group dubbed Leiopelmatidae that possess ancient features such as more vertebrae. These are unique among frogs in using a trot-like swimming gait instead of extending and flexing their hind limbs together for a standard frog-kick swimming gait.
Scientists compared high-speed video footage of jumping behavior between three species of primitive frogs and two advanced ones. They typically enticed the frogs to jump by tapping right behind the animals.
Although launch movements were similar among the species, primitive frogs kept their back legs extended throughout flight and landing. As such, they often flopped onto their bellies instead of landing on their front legs.
---