Scientists discover new monkey species, declare it almost extinct
Callicebus caquetensis, a cat-sized species of titi monkey, has has grayish-brown hair and a bushy red beard. It faces an extremely high risk of extinction in the wild in the immediate future.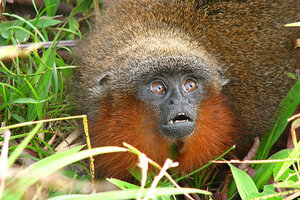 Javier Garcia/AP
A scientific expedition to the Colombian Amazon has revealed a new species of monkey.
The species of titi monkey (Callicebus caquetensis) is a cat-size creature that is critically endangered because of rapid habitat loss and its small population. The discovery was announced today by the environmental nonprofit group Conservation International.
Research from 30 years ago hinted that a previously unknown primate species might be living in Colombia's Caquetá region, near the Ecuadorian and Peruvian border, but violence and insurgent fighting kept the area off limits for decades. It was only in 2008 that scientists Thomas Defler, Marta Bueno and student Javier García of the National University of Colombia proved the rumors true.
García, a native of Caquetá, was finally able to travel to the upper Caquetá River three years ago, and, using GPS, searching on foot, and listening for calls, he found 13 groups of the new species. Titi monkeys (or zogui zogui as they are called in Spanish) have one of the most complex calls in the animal kingdom and use it every morning to mark their territory.
---