Star Wars speed dating: Looking for love in Alderaan places?
Fans at Orlando's Star Wars Celebration V convention tried to find their match with three-minute speed dating, complete with a Star Wars-themed commitment ceremony for those who hit it off.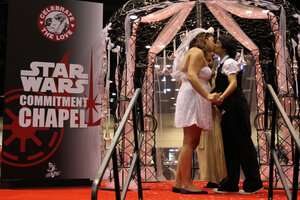 Red Huber/Orlando Sentinel/AP
Amid the droid races, costume contests and panel discussions, some devoted "Star Wars" fans tried their luck at finding romance with – of all things - sci-fi-themed speed dating.
The participants, many of whom were dressed as Jedi knights, stormtroopers and the indomitable Princess Leia, sat opposite one another for a series of 3-minute dates, in hopes of finding a connection with a fellow "Star Wars" enthusiast.
Two speed dating events were planned for the four-day-long Star Wars Celebration V convention here, but the sessions were so popular that the organizers added an impromptu third gathering to the schedule.
"Over the course of the three events, due to size and time, we turned away about 600 participants," the event's host Ryan Glitch, of Gorham, N.Y., told SPACE.com. "Yesterday, this room was packed. We had to keep shoveling people along." [Graphic: Lightsabers in Fact and Fiction]
---