Hurricane Igor heads north, all the way to Greenland?
Hurricane Igor had weakened to a bottom-tier hurricane by the time it brushed past Bermuda. Forecasters say Igor could still pack strong winds as it becomes a post-tropical depression over Greenland Thursday.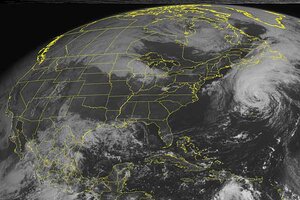 Weather Underground/AP
For 12 days, hurricane Igor has been spinning through the Atlantic Ocean, first as a tropical storm, then as one of the 2010 season's handful of "major" hurricanes.
Now that it has pirouetted past the British Territory of Bermuda as a bottom tier hurricane, are the Inuit ready for Igor?
Between next Thursday morning and Friday morning, forecasters at the National Hurricane Center in Miami say they expect Igor to make landfall on the southern tip of Greenland, perhaps with tropical-storm-force winds, then to move into the interior as a "post-tropical" depression.
The label "post-tropical" refers to a shift in a storm's energy source. In Igor's case, its energy source is expected to shift by Tuesday morning.
As a tropical cyclone, Igor draws its energy from heat. That heat is released as water condenses from vapor to cloud droplets as the vapor rises higher into the atmosphere and cools, forming powerful thunderheads. As the storm moves north, it encounters cooler water and draws its energy from the difference in temperature between the storm itself and a cooler mass of air sweeping into the North Atlantic from middle and high latitudes. At that point, Igor earns the post-tropical tag.
---