Study: Ogling women makes them worse at math
A new study has found that women who have been ogled by men before taking a math quiz perform worse than those who were not subject to subtle objectification.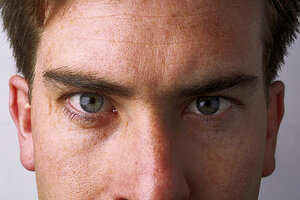 Newscom/File
Getting the once-over from a man causes women to score lower on a math test, a new study finds.
Despite this drop in performance, women were more motivated to interact with men who ogled them, perhaps because they were trying to boost their sense of belonging, psychologists report in the February issue of the journal Psychology of Women Quarterly.
"It creates this vicious cycle for women in which they're underperforming in math or work domains, but they're continuing to want to interact with the person who is making them underperform in the first place," study researcher Sarah Gervais, a psychologist at the University of Nebraska, Lincoln, told LiveScience.
The objectifying gaze
According to researchers, objectification happens when a person is judged on body parts or sexual function without regard to other aspects of their personality. Previous studies have found that women experience objectification frequently: One to two times a week, according to a 2001 study of U.S. college students that was published in the Journal of Social Issues. [Read: Negative Stereotypes Have a Lasting Effect]
---
Follow Stories Like This
Get the Monitor stories you care about delivered to your inbox.