On Valentine's Day, express your love with a giant hissing cockroach
On Valentine's Day, nothing says 'I love you' more than naming a giant Madagascar hissing cockroach after your beloved. Now the Bronx Zoo is offering just that opportunity.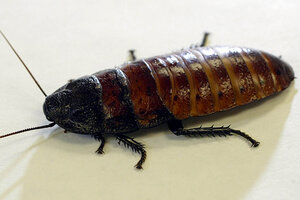 Tom Sweeney/Stat Tribune/Newscom/File
For those still searching for that perfect Valentine's Day offering, the Bronx Zoo in New York City has a gift that is romantic, practical, long-lasting — and no delivery box is required. Thankfully.
For $10, you can name one of the zoo's 58,000 resident Madagascar hissing cockroaches after a loved one.
More than 4,000 romantics have already named one of the giant roaches — the world's largest roach species — after a beloved forValentine's Day, sending a clear message to their sweethearts that their love will endure, just like a roach.
Some of the roaches at the zoo are now blessed with such names as Hissing Hottie, Cranky Frankie, Lisa Lovebug and Hisssterical.
"Nothing says forever like a cockroach," said Jim Breheny, senior vice president for Living Institutions and director of the Bronx Zoo. "They are resourceful, resilient and have been around for hundreds of millions of years."
---